This article is about Everyone and Amy.
Overview
Amy
was the first antagonist of
Total Drama: Pahkitew Island
after Heather of the original series. Amy is kind of rude and can be a mean girl. She is always mean to her sister
Samey
. Amy is also a beautiful girl. She is mean, but she is not ugly. Both teammates,
Rodney
and
Topher
, like Amy a little. In challenges, she doesn't want to be hit by anything. She use people to work for her like protecting her. Samey and Rodney are doing this. Amy's enemy is her own sister, Samey. Samey is tired about the things Amy does, but Amy doesn't care about this.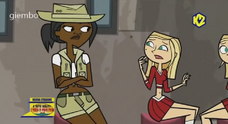 During the begin of
Total Drama: Pahkitew Island
she and Samey sat in the plane. They switched from place cause Beardo was acting weird. When Amy turns to Jasmine, she looks confused. They both are placed in
Team Maswak
.
In I Love You, Grease Pig! Jasmine asked something to Amy, when she sleeps in the treehouse. She pushed Samey to the outside.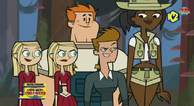 In
I Love You, Grease Pig!
before the challenge, Amy and
Rodney
are talking. When Rodney said something wrong she pushed him. Samey looks sad to them. Rodney felt in love when she pushed him and since then Rodney is acting weird to Amy.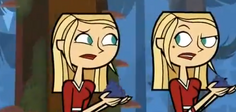 For more information about this section, visit: Amy and Samey
Amy and Samey are twin sisters. They both are cheerleaders. Amy is the captain and acts as a captain. Amy is the mean one, and use Samey, the naive one, for challenges and more things. Samey is the shadow from Amy. But they are always together. Amy cant live without Samey cause Samey has to do everything for Amy.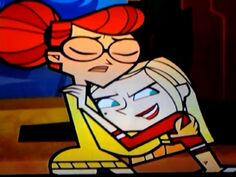 When Samey yelled at Amy, Amy acted being upset and inmediately hugged Scarlett, she didn't refuse and hugged her back.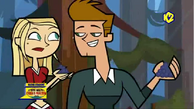 It seems like
Topher
likes Amy. At the episode
I Love You, Grease Pig!
Topher seems interessed in Amy. He walks with the two sisters and talks then to Amy and shows his charmes. Amy looks to him and thinks he's filthy.